I firmly believe the best way to keep healthy is by eating healthy foods. These days it is nearly impossible to get all the nutrition we need by our selves. Everything we see is processed, destroying most of the nutritional benefits. We live in a fast food, give it too me now society. We also have a society that is dying of Cancer,
battling

Alzheimer's disease

, and obesity. Personally, I think there is a connection.
So what can we do to give ourselves a hand?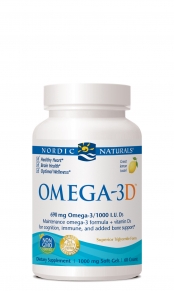 Nordic Naturals sent me Ultimate Omega D3 to review. Ultimate Omega D3 gives you a high concentration of Omega 3 fats, as well as 1000 I.U. of vitamin D3, and supports a strong immune system and bone health. I am a big believer in vitamin D and this is the first Omega vitamin I have seen that includes it.
Why take an Omega supplement?
Several studies report possible anti-

cancer

effects

(in particular, breast, colon, and prostate cancer)

Studies show that a diet rich in omega 3 fatty acids may help

lower triglycerides

and increase HDL cholesterol (the good cholesterol)

Omega 3 fatty acids may protect against the accumulation in the body of a protein believed to be linked to Alzheimer's disease

Improves Heart Health

Reduce inflammatory – Helps with osteoarthritis

Supports developing brain and eyes

Essential for the development of infants and children

Promotes positive mood and well being

Helps promote healthy skin and helps the symptoms of

Psoriasis and Eczema
Why pick Nordic Naturals?

I began taking my Ultimate Omega-D3 right away, and I am sold. I can't say that I have seen a dramatic difference, but it has only been 2 weeks, and the health benefits are for a lifetime. The soft gels are easy to take, which is a big deal. With other Omega supplements I have noticed a "fishy" taste come back to bite me through out the day. I am happy to report no such problems with this supplement.
Nordic Naturals has won many awards for their products and is worth checking out. There is a wide range of products for all your health needs. I plant to buy some of the
Omega-3.6.9-D Junior next for my kids.
Who can put a price on your family's health? A price can be put on the effects of not taking care of our family's by doctor's bills and hospital stays. Prevention is the key. Don't we owe our family the best?
Buy It:
Visit
http://www.nordicnaturals.com/
to see their complete line of supplements
Visit Nordic Naturals on Facebook:
http://www.facebook.com/nordicnaturals
What's Essential Contest:
Share your What's Essential story and win your ticket to California!
Everyone has something that is essential to them. Each of us holds something close to our heart. Share yours today!
What truly matters in your life? Is it spending time with friends and family? Is it hanging with your pet? Finishing a marathon this year, or perhaps running a mile every day? The What's Essential Contest will award 19 prizes to the top What's Essential entries
Grand Prize



One winner will receive a trip for two to Santa Cruz, California with
all the trimmings.




• Round-trip airfare for two to California

• Hotel accommodations (4 days, 3 nights)

• Car rental or equivalent transportation reimbursement

• One $500 VISA debit card = Spending Money!!
• 2 tickets to Monterey Bay Aquarium
• 2 tickets to Santa Cruz Beach Boardwalk
• One-year supply of Nordic Naturals award winning omega-3 oils


Travel must occur between July 2012 and October 2012




Each of the six Second Prize winners will receive one Canon® Vixia HF M400
camcorder and a one-year supply of Nordic Naturals award winning
omega-3 oils.




Each of the twelve Third Prize winners will receive a one-year supply
of Nordic Naturals award winning omega-3 oils.



Nordic Naturals has given me this product to review. I was not given the product in exchange for a positive review. All opinions are my own.